Papillon
La cravatta a farfalla, o papillon, è la parente stretta della cravatta, derivante dal fazzoletto da collo, che fino al XIX Secolo era
l'accessorio maschile per eccellenza.
Con il passare degli anni questi fazzoletti da collo si assottigliarono e venivano annodati in maniera da creare un fiocco, insomma
l'attuale papillon.
A differenza della cravatta, questo particolare cravattino è un prodotto di nicchia, forse per la sua nota "teatrale"  o forse perché
viene visto come un accessorio poco maschile; per questi motivi oggi viene indossato per eventi particolari, con smoking o frac.
Una valida alternativa alla sua "cugina" cravatta, per un uomo più eccentrico e con molta personalità,
che ama comunque vestire in modo corretto.
Indispensabile nel proprio guardaroba.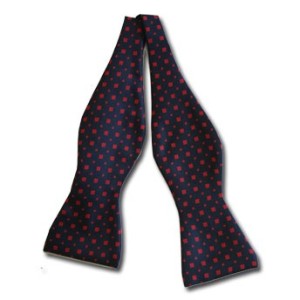 The Bow Tie
The bow tie is a close relative of the tie, resulting from the neckerchief, which until the Nineteenth Century was the male accessory par excellence.
Over the years, these neckerchiefs thinned and were knotted in such a way as to create a bow, in short the actual bow tie.
Unlike the tie, this bow tie is a particular niche product, perhaps because of his "theatrical" taste or perhaps because it is seen as an accessory less masculine.
For these reasons, today it is worn for special events, with a tuxedo or tailcoat.
A viable alternative to its "cousin" – the tie – for a more eccentric man with a lot of personality, who, even so, loves to dress properly.
Essential in a man's wardrobe.